Tackle GL Recon with a Focus on Investor Accounting
Reconcile and certify General Ledger activity and clear exceptions within a workflow-enabled application. The system seamlessly integrates with various GL sources and core banking systems.
Leverage loan-level data and reporting from your servicing platform to bring rich information into your General Ledger reconciliation. Get the whole picture by leveraging our other Investor Accounting modules, all in one system.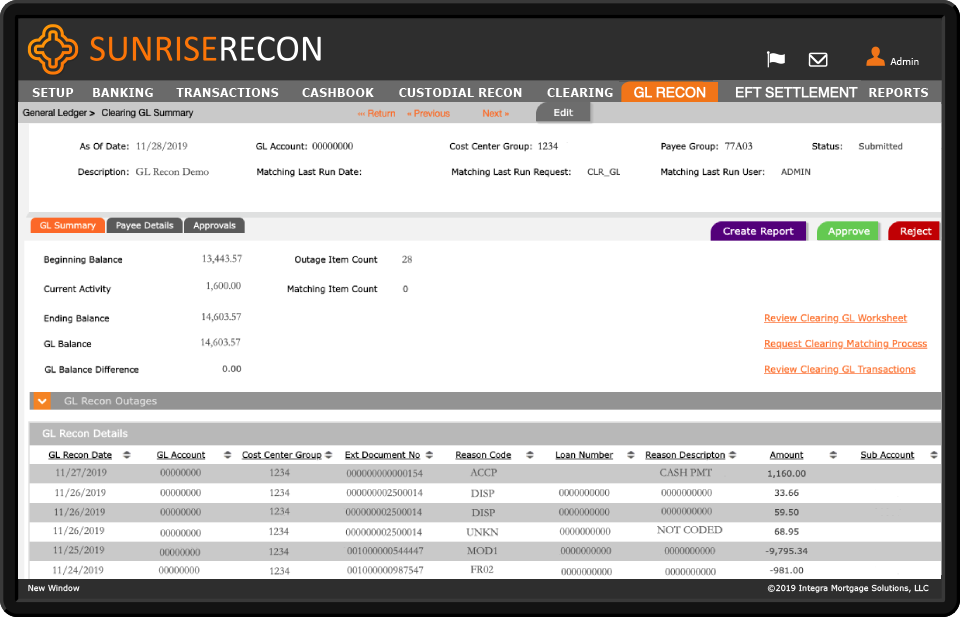 Features and Benefits:
✓ Reconcile and certify GL balance and transaction activity from multiple sources with simple mapping.
✓ Track, age, and resolve GL exceptions with built-in workflows and automated matching rules.
✓ Link loan-level payee data from your servicing system to get a full picture of the transaction.
✓ Clear more exceptions automatically with configurable reconciliation rules supporting complex match scenarios.
✓ Certify reconciliations with built-in quality assurance and submission/approval quality controls.
✓ Retain history of approvals and exceptions handling to more quickly address audit requests.
SunriseRecon also offers solutions for: