Get to the Root of Your Custodial Reconciliation
Even small recurring outages can be a symptom of a bigger underlying issue.
SunriseRecon actually identifies the root cause of outages, so they don't keep occurring month after month. Once an outage is identified, the system automatically tracks and ages each item until it is resolved.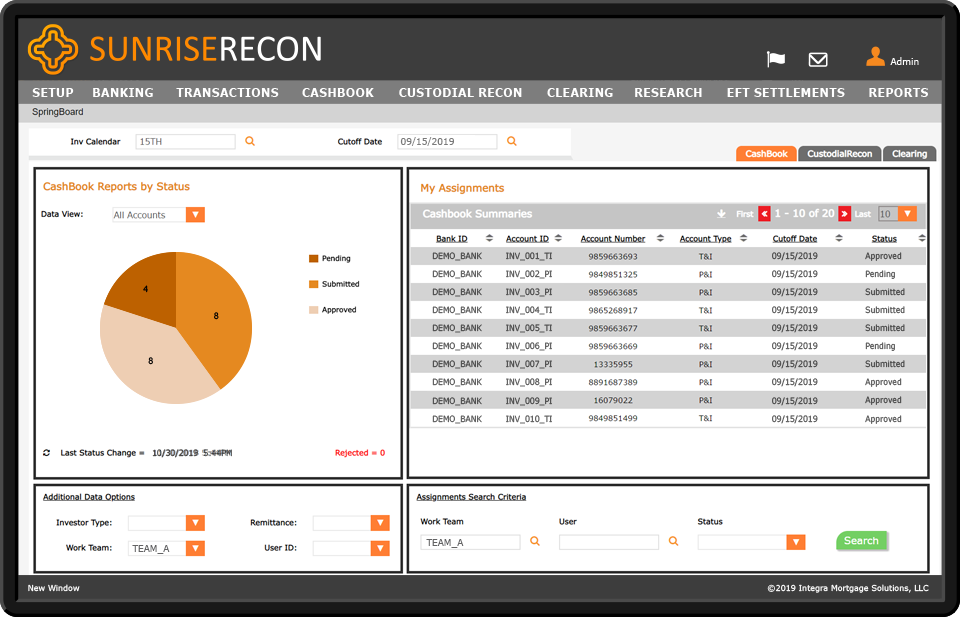 Features and Benefits:
✓ Complete P&I and T&I reconciliation for FNMA, FHLMC, GNMA and Private Label portfolios (all remittance types and other agency also supported)
✓ Loan-level Test of Expected Cash calculations and identification of reconciliation differences (i.e. outages)
✓ Automated root-cause identification, tracking, ageing, and clearing of reconciliation outages
✓ Real-time dashboards with metrics showing all pending, submitted and approved work items
✓ Completion of agency reporting requirements (i.e. form 496, 59, etc.) with history retention
✓ Submission and approval workflow over Custodial Reconciliation processing/quality control
✓ Expanded library for importing Black Knight (MSP) and Sagent source data reports, plus other servicing platforms like TMO, Servicing Director, and Jack Henry
✓ Tracking and balancing of P&I advance balance and transaction activity
SunriseRecon also offers solutions for: