Increase Efficiency in Custodial Reconciliation by 69%
See how top regional bank M&T reduced risk and saved 283 hours per month in custodial reconciliation processing with SunriseRecon.
To overcome the challenges and risks of an Excel-based custodial reconciliation process, M&T Bank partnered with Integra Solutions to implement its SunriseRecon platform. The bank identified three key areas that contributed to those gains in efficiency: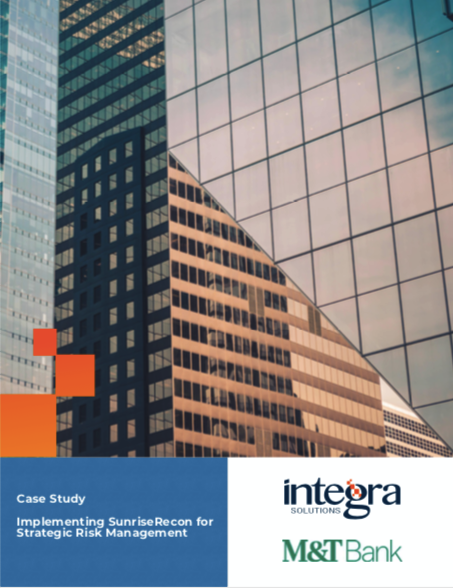 ✓

Process automation and agility:

Automating many aspects of a mostly manual process reduced the risk of errors and decreased the time required to perform reconciliations.
✓

Visibility and reporting:

Real-time dashboards and streamlined reporting allowed the team to proactively address potential audit issues; adopt meaningful metrics and benchmarks; and understand previously hidden operational constraints.
✓

Audit and controls:

Thanks to built-in controls and paperless processing, SurniseRecon has decreased the time required for QA/QC by 62% and streamlined communication with auditors.
Now M&T Bank is poised to scale and grow through loan acquisitions. " The SunriseRecon suite offers a reconciliation solution that was long overdue in the industry. We were immediately impressed from Day 1, and the functionality it offers is amazing! "
- SVP, Top 20 Regional Bank
Get the Case Study
Please share the following information to get a copy of the case study. Don't worry, we will never share your information with any third-party or communicate without courtesy. Check out our privacy policy.